Retaining Wall Systems


What are Retaining Walls Used For?
Although retaining walls define spaces and add interest to an area; they are most commonly used to solve drainage issues, add usable living space, and restore function to a landscape.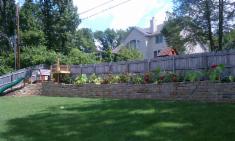 See photos of our retaining wall system installations
here
.
Typical Pricing
• Mosaic Wall - $29.5/sq. ft.
• Standard VersaLok Wall - $28/sq. ft.
Pricing includes all material (plus capstones) and labor.
In some cases extra backfill is required for larger walls and larger areas of land. Associated charges would be added depending on amount of extra fill needed.
Color Options
We generally do not charge extra for different color options. "Tumbled" blocks come with an extra charge of $1/sq. ft.
Styles and Types
See our
Affiliates
to browse through styles of wall blocks.
C
ompletion Time
Most walls take about 1 weeks to complete. Large wall (+200 sq.ft.) may take up to 1.5 weeks. Smaller walls can be finished in as little as one day.