Fences & Pergolas

We use screws/bolts in all of our fence and pergola projects, whereas a typical fence installer will quickly slap up a fence with a nail gun. Our fences are built to last and provide years of satisfaction.
We Pride Ourselves on our Gates

There is nothing more annoying than a gate that has been improperly installed and/or includes cheap hardware. Our gates are built to last and function correctly for years.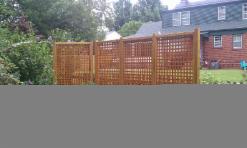 Visit our
Photo Gallery
to see more fences & pergolas we have installed
Typical Pricing (6' Privacy Fence)
• Eastern Cedar - $29/ln. ft.
• Western Cedar - $26/ln. ft.
• Pressure Treated Pine - $22/ln. ft.
• Vinyl – Varies $27 - 35/ln. ft.

(Pricing includes all material and labor. Price does not include removal of existing fence or structure, if required.)

Completion Time
Most larger projects (over 400 ln. ft.) take about 1 week to complete. Smaller projects can be finished in as little as three days.