Best Practices for Weed Control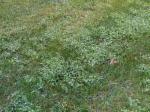 If 30%-40% of your lawn consists of weeds, you should consider completely renovating it (i.e. sodding or reseeding). The reason is that it becomes more costly to put in the fight with weeds than to just start over. To successfully eradicate a lawn that has a high percentage of weeds several chemical applications would be necessary per season. This may last for 2 or 3 seasons.
Sod is expensive but it offers instant gratification. Seed on the other hand, is about ½ the cost of sod, but takes a couple weeks to germinate.
Attacking weeds during the growing season should start in Early Spring or Late February. When the Forsythia are in bloom, the crabgrass and many other weed seeds are starting to germinate. This is when you want to apply a pre-emergent. A fertilizer is preferred after grass has started its active growing.
Other than picking out the weeds by hand, a spot sprayer works well for spraying weeds throughout the growing season. Use a weed killer that is labeled "For Lawns". Attack weeds as long as you see them. Stop worrying about weeds in Fall. Fall is the time for Overseeding, Aeration, Soil Amendments, Sod, Lawn Renovation (Sep-Nov for cool-season grasses).